As the NSW Public Health Order removal loomed large on the life celebrations and wedding activations landscape our industry remained optimistic for a somewhat normal future …… and just like that it's not actually over…. the "COVID Age" continues.
I had hoped to finally be done with "all things COVID" by December 15, 2021 or at least not be as occupied with said subject as NSW moved to remove all mandated Public Health Orders however (it) remains a cautionary tale (1) for all who are planning or rescheduling a wedding and life celebrations in general.
The political "doorstop" announcements of "if COVID hospital presentations increase significantly we will reassess" and "the government will make any changes to the settings, if they are necessary" remains ambiguous to say the least.
What is clear however is that the individual (personal) plus the collective responsible business behaviours and choices will be at the cornerstone in determining what the future looks like for life celebrations and wedding activations in Greater Sydney NSW.
Normalising the narrative is an important aspect of re-engaging business activities with surety and trust; however real world deliverables are as equally critical …. the latter is still largely missing from the new narrative.
With life celebrations and wedding activation restrictions now removed in NSW I had quiet expectations of a return to a somewhat more normal operation, however it is now clear "close or casual contact notifications" will remain a real challenge and if occurs (at a venue of choice, within the supplier pipeline, wedding party or within the guest list) is enough to derail the delivery of the day until anyone who is a "close or casual contact" has had a "PCR test" and have returned a "negative result".
Positive tests will be required to self isolate per the NSW Public Health requirements – learn more "The NSW Health Public Health Unit will tell you what to do next. If you have a positive test result you will need to self-isolate. This means that you don't leave your home". https://www.health.nsw.gov.au Transcript: What happens when you get your COVID-19 test result?
Due to the continuing COVID notification rates in Greater Sydney NSW,  COVID – Safe Weddings and Life Celebrations will remain an important consideration and must be factored into the event and wedding planning journey regardless of the public health orders of the day.
Where possible outdoor activations should be considered and all indoor celebrations should still factor social distancing seating and conduit passage movement within the floor and seating plans with as much open air access as is feasible also. Of course with any outdoor activations a wet weather plan is required and this activation should include considerations as to the recommended Public Health  – COVID Safe preventions.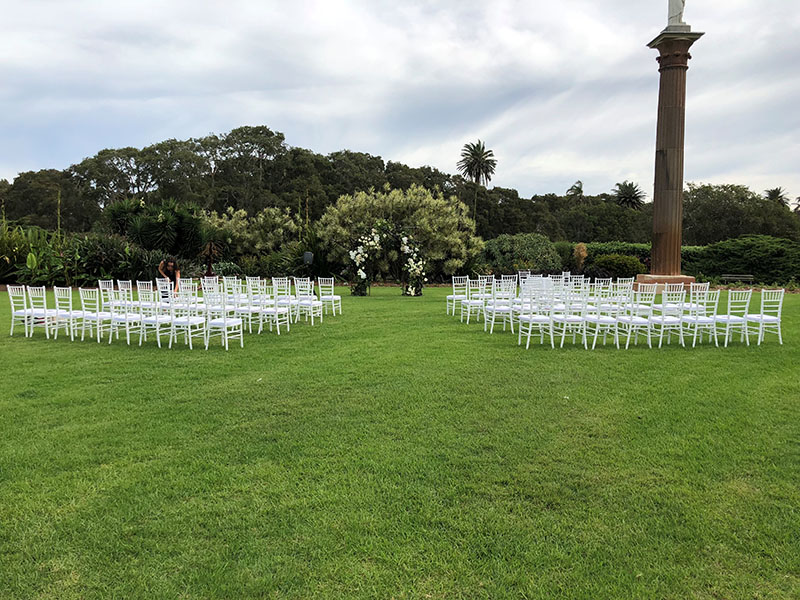 With this in mind we have incorporated a flexible bespoke planning option within our services to compartmentalise or include a complete and full wedding day for the convenience of our valued clients but in an intimate, sophisticated, chic and safe way.
Micro life celebrations and intimate wedding experiences are the new socially responsible way to celebrate your big day.  
This flexible option, which is unique to LUXE – Unforgettable Events is another package advantage of the LUXE – FlexAction experience – learn more.
With the COVID impacts and uncertainty still in the planning and delivery mix, not being under the guidance of a wedding planner or an on the day coordinator means that either yourself and partner, family, or wedding party member may be burdened by the responsibility of the "COVID" watch situation with ongoing evaluation plus the constant awareness of the interlinked logistics from the start of planning and throughout the event delivery processes, potentially detracting from the whole experience.
Having the peace of mind of an experienced wedding planner to manage the risk analysis for your day is an invaluable resource and is a viable investment in the day.
Note: that I refer to an "experienced event or wedding planner". Caution is advised if your only option is the cheapest price point for a planner or coordination service.  Be prepared to clean up before, during and after the "planner" who has no real experience or knowledge of what it takes to plan and deliver big days – particularly through challenging and unstable times….. cautionary tales (2) abound and often end in tears and disappointment on the day so make sure the planner and the package can deliver exactly what your actual required service is, in its entirety.  If it seems too good to be true then it probably is as quality engagements should never be based on the cheapest price point.
Your planner must have the necessary skill sets to crisis manage an important life celebration activation from start to finish. The budget for the planner needs to factored as a critical resource inclusion from the get go so alternate plans are an active component of the holistic process and not just an afterthought when it's all a bit too late.
When choosing your wedding planner you should consider if (he, she, they or them ) have the essential expertise across government engagement and (intel) gathering, event design and production management, venue and supplier relationship development, creative negotiation and contract finalisation, plus the logistics and budgeting imperatives all of which provides you and your partner with a superior customer service experience and outcome for the day.
The process of planning and delivery must be a multiple channel management including the critical risk assessment, logistics plus the creative activations from concept to completion.
Your wedding planner and event specialist (of choice) should be able to answer all questions, brainstorm and discuss ideas, facilitate and present research, forecast and highlight threats, challenges and opportunities, then negotiate with third parties on your behalf and manage the unexpected in a seamless way.
If they cannot, or you do not feel that it is a partnership of trust (which is important) then keep looking for the "partnership" that will be a fit for you and importantly your day. However, be prepared to share every aspect of your day with your planner with total transparency as surprise elements and information omissions plus late reveals do not make for cohesive planning engagements either. Just saying…. the process of planning and delivering a successful day requires a 360% purview capture by the planner across of all elements and moving parts so there are no unnecessary "surprises" along the way or on the day.
Click here to view the services that LUXE – Unforgettable Events can provide for you and how we can "FlexAction" some or all elements to your day, which in this continuing  COVID age, may just save the day.
*What's the wedding and life celebration landscape look like right now? 
Current rules and restrictions for all people living in NSW have eased and we are no longer "mandated" to wear face masks, ensure density permissions or have QR checkin at ceremony and receptions, however we must still observe the "close and casual contact" requirements.
Hospitality and Wedding venue rules that have changed include:
density limits no longer apply
proof of vaccination is not required at all venues
QR check-in is now only needed for certain high-contact premises
face masks no longer need to be worn
singing and dancing permitted
food and beverage consumption while standing allowed both in and outdoor venues
Some premises may still make it a condition of entry that you are fully vaccinated or require you to wear a face mask – it is your choice as to whether you choose to comply however we strongly suggest that these requirements remain in your best health and safety interest and that of your family, friends and business contacts too.
"NSW Health" strongly advises all people to get fully vaccinated and wear a face mask where they cannot socially distance no matter the lifted restrictions". Learn more at the COVID-19 rules in NSW
https://www.nsw.gov.au/covid-19/stay-safe/rules/people-in-nsw https://www.nsw.gov.au/covid-19/stay-safe/rules/people-in-nsw#toc-weddings-funerals-and-religious-ceremonies
*COVID Safety Plans are no longer mandated for organisers of weddings and life celebrations (except for funerals or memorial services).
COVID-19 Safe Check-in for funerals and memorials:
"The occupier of a premises at which a funeral, memorial service or where an after gathering is taking place must:
"Optional COVID-19 Safety Plans are available to help best keep a safe environment for staff and customers and are still recommended by Service NSW".
Masks, COVID-19 Safe Check-in and Vaccination Evidence – update
Masks:
Masks remain as strongly encouraged in settings where you cannot "socially distance" by NSW Health but are now not mandated under Public Health Orders.
However if you are over the age of 12, you must still wear a face mask when
at a public transport waiting area
while on public transport
at airports and on aircraft when the aircraft is flying above NSW
for indoors front-of-house hospitality staff who are not fully vaccinated
Masks are no longer required in outdoor settings except for unvaccinated venue personnel.
COVID-19 Safe Check-in:
"COVID-19 Safe QR check-ins are only required at
pubs, small bars and registered clubs
hairdressers, spas, nail, beauty, waxing, and tanning salons, tattoo parlours and massage parlours
gyms (except dance, yoga, pilates, gymnastics, and martial arts studios)
hospitals (except patients of hospitals or hospitals with an electronic entry recording system that records sufficient information that can be used for contact tracing)
residential care facilities or hostels (except in relation to the residents)
places of public worship
funeral, memorials and gatherings afterwards
nightclubs
strip clubs, sex on premises venues, sex services premises
indoor music festivals with more than 1000 people
If you are entering premises where check-in is required you must:
provide your details to the occupier of the premises on request"
*Learn more about mandatory electronic check-in
Vaccination Evidence:
Most premises in NSW are now open to everyone, regardless of whether you are fully vaccinated or not.
You no longer need to show evidence that you are fully vaccinated at most premises but you can check the Service NSW links to confirm continuing requirements.
However, you still need to show evidence that you are fully vaccinated if you:
attend an indoor music festival with more than 1000 people
at airports
if you work in certain industries
Follow the vaccination requirements for workers.
Check what you need as vaccination evidence.
As part of our ongoing COVID – Safe Operations all life celebrations and wedding day activations will be delivered within the recommended public health safe guidelines – any postponements required will be rescheduled by availability of all parties to the delivery of the day with express written agreement moving forward.
If an event activation has to be postponed due to the consequence of a state or federal reintroduced "Public Health Orders" and close or casual contact notifications LUXE – Unforgettable Events employees and partners in contract remain held harmless as to the ever changing impacts and implications of the continuing COVID pandemic.
Our Risk Management Policy recognises the challenges that we all face fundamentally and operationally during these continuing challenging times.
Our operational priority remains the health and safety of our valued clients, their guests, our collaborative industry delivery partners and our LUXE –  Unforgettable Events team plus the delivery of an unforgettable experience for all the right reasons.
I continue to monitor the current and evolving implications to the delivery of our client's important big days however personal responsibility, basic hygiene practises and the wearing of an inexpensive but effective face mask in certain indoor density settings will make a huge difference in staying well and in keeping our life celebrations and wedding activations actually being able to be delivered  …….#getboosted as soon as you can also.
If you have any questions as to our COVID – Safe Operational Policy please do not hesitate to contact me for clarification.
I am only a phone call away so I look forward  to your call and to discussing all things planning, styling and coordination with you and your partner – cheers to happy days. Call now.
Kerrie @luxeunforgettableevents
*COVID updated information contained in our blog is sourced via Service NSW & NSW Health at *Rules for people in NSW | NSW Government – see links here:
https://www.nsw.gov.au/covid-19/stay-safe/rules/people-in-nsw https://www.nsw.gov.au/covid-19/stay-safe/rules/people-in-nsw#personal-services