Big days do not just happen – they require planning, coordination and collaboration across services, suppliers, vendors and venues so your day is stress free and seamless.
Although you may think that you will save yourself a lot of money by taking on the planning of your wedding on your own, the reality is that partnering with a wedding planner and event coordinator will not only save you money, but also a great deal of time, energy, and heartache.
A good wedding planner will ensure that every aspect of your special event is uniquely tailored for you. They work with you to design a custom package to suit your exact requirements and budget and personalise your wedding and special event every step of the way, paying attention to bringing your vision to reality.
Five reasons to use a wedding planner
1) While there certainly are many wedding planning tasks that can be fun and rewarding – such as selecting your cake flavour and design or taste testing your menu – many of the tasks are time-consuming and tedious: scouring vendor contracts, organising mini bus transport for guests or figuring out seating charts. With a wedding planner, you can choose the level of involvement you want with the interesting jobs while leaving the more humdrum details to a professional.
2) Wedding planning takes a lot of time and most of the vendors operate during business hours, meaning you may need to take time off work leading up to the wedding to ensure it all runs smoothly.
3) Your wedding planner has strong, positive business relationships with all their suppliers, vendors and venues because they are repeat customers. They know all the products inside out and will be able to negotiate to get you the best deal while still catering to your particular style. Any problems that crop up on the big day can be quickly and smoothly dealt with.
4) It can be tricky to find people to help with the small jobs on the big day – usually the people you will call on for help will be close friends or family, who really would just love to relax and celebrate this day with you – as it should be. A wedding planner has the expertise and staff necessary to take care of all the small on-the-day jobs: picking up the cake, being present for vendor set-up and pack down, and ensuring all the minute details that make your day special are just right. Not being under the guidance of an "on the day coordinator" means that either yourself or a loved will be burdened by responsibility throughout the event, potentially detracting from the experience. Having the peace of mind that an experienced wedding planner is managing your day is invaluable.
5) Your wedding day should be an unforgettable event that you can soak up and enjoy. With a wedding planner, instead of worrying about the one hundred details that make the day run smoothly, you can go with the flow, be present with your partner and loved ones, and remember every magical moment and the wedding planner will make sure its all captured unforgettably too.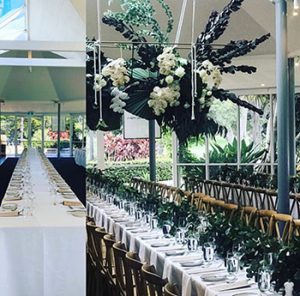 Choosing a wedding planner
Your wedding planner of choice should have the essential expertise across event design and production, venue and supplier relationship development, creative negotiation and contracts, logistics and budgeting. They should provide you with a superior customer service experience and outcome for you and your partner.
As your wedding planner and event specialist they should be able to answer all questions, brainstorm and discuss ideas, facilitate and present research, negotiate with third parties on your behalf and manage the unexpected. They should also be able to provide the following services relative to your style, theme and budget.
Click here to view the services that LUXE – Unforgettable Events provides.
As your professional wedding planner and event management specialist, we ensure your special moments with us are Unforgettable – for all the right reasons. At LUXE – Unforgettable Events we don't just create an event – we create THE event!
Our flexible and savvy team works with you to ensure 'your day – your way – without fuss.'
All the best – have a lovely and unforgettable day.
Cheers,
xo
The LUXE Team