Further to our last COVID-19 Blog and with the NSW Premier's new announcement @June 14, 2020 regarding the rollbacks on wedding day restrictions across venue capacity we will soon start to see a re scheduling of the plethora of the postponed weddings as long as all seating across the ceremony and reception spaces are strictly adhered to.
This is the critical point moving forward for all wedding industry services, suppliers, vendors and venues.
What this means is all bookings moving forward in venues will be based their capacity which will be determined by the venue floor space so all rescheduled and future weddings for the foreseeable future will need to have specific seating plans that ensure that the wedding is within the COVID- 19 permissions as set out in the NSW Health Public Health Orders and are a fit within the venue parameters.
ISO weddings in NSW, with a cap of 20 wedding guests in Sydney Australia is the current permission until July 1, 2020 as advised by the NSW Minister for Health under Public Health Order (3) – link to NSW Government wedding day operational action guideline is here for your convenience. Guidance about COVID-19 safety for the wedding industry is available at www.nsw.gov.au/covid-19/industry-guidelines/wedding-ceremonies-and-receptions.
NSW WEDDING RESTRICTIONS – HAVE AN ACTION PLAN
All wedding services, suppliers, vendors and venues are required to have a COVID-19 action plan in place and we most certainly do at LUXE – Unforgettable Events.
While these rollbacks are a greatly needed—and most certainly welcomed—some uncertainty still remains as to any full reset anytime soon of the traditional wedding day activations. This is still clearly some time away which means that for some of the to-be-rescheduled weddings a guest list down-size will be required, or larger venues will need to be sourced to accommodate the current guest list within the COVID-19 Public Health Order permissions from July 1, 2020.
DOWNSIZE THE DAY
Smaller and more intimate weddings will be the way forward for most couples who will be looking to the tie the knot in 2020 and most likely into 2021 – with these considerations clearly in mind our all inclusive Miniature Wedding 2020 wedding package is a viable and cost effective option for those to be wed couples who prefer not to wait any longer and require surety around all elements for their big day.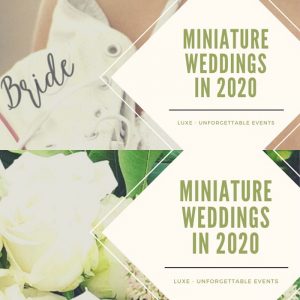 Our intimate and romantic wedding package experience in our beautiful City of Sydney in a ceremony and venue space of your choice is perfect for those who wish to wed in these challenging ISO times but without the COVID -19 fuss …this is a personalised package and includes but is not limited to the following:
Celebrant

Ceremony space decors and furniture hire

Wedding Florals for the wedding party and ceremony design

Aisle Runner & Rose Petals

Wedding Cake and Celebration Beverage Table plus Glassware

Photographer

Broadcast Quality Live Streaming from the Ceremony Site to your full/extended wedding guest list – no matter where they may be on the wedding day

Wedding Package options available also outside of the curated ceremony packages to include the seated wedding reception experience if you so choose
The Miniature Wedding Package is designed to be adaptable to and within the changing Public Health Order permissions – variations to venue configurations and or inclusions can and will be made on application to personalise the "Miniature Wedding Day" experience as the permissions are advised by the NSW Minister for Health under the ensuing Public Health Orders.
With recent further rollbacks announced at the Federal and State levels (meaning that if there are no spikes in the notifications of COVID-19 community infections by July 1, 2020) further restrictions to be lifted and we all will be able to move to stage 3 plus of the Federal Governments reset plan but with social distancing requirements still very much in the event or wedding planning delivery mix.
The stage 3 *100 persons per wedding will be removed from the public health orders and replaced with the specific "4 square metre per person" rule for all indoor and outdoor wedding activations.
While this may sound positive (and to some degree it is) the *4 square metre rule per person is a logistic that must be examined in context of any existing albeit postponed venue booking and for all those new bookings moving forward as this rule will impact smaller venues significantly as to capacity of guests in a venue, the seating plans, access points and the dance floor provisions which is still not clearly included in any real government rollback discussions or published plan at this time. Yes we at LUXE – Unforgettable Events have considered this element too, please read on.
NSW WEDDING RESTRICTIONS
So where does this leave us in real terms as to the planning and delivery of rescheduled wedding days, and the planning and delivery of new bookings moving forward… While there's still much unknown about what all this will actually look like and how this will be activated over the next few months, we do know for certain that weddings during and after COVID-19 social distancing restrictions are rolled back (and eventually lifted) will look and be different to that of what we now refer to as the "traditional wedding day" i.e.: before the COVID-19 pandemic of 2020.
A great deal will still depend on the Federal Government's confirmed restriction rollbacks and that of the individual State discretionary permissions under their Public Health Orders as it relates to the permissions agreed in each State.
Despite this wedding planner (and others) industry representations to federal and state MPs there is no real uniformity or coordinated pathway that we can all rely on so we must continue to be flexible and pivot the processes as they are revealed by the Public Health Orders for the benefit of our collegiate industry collaborations and importantly the wedding days of our valued clients.
CURRENTLY PLANNING A WEDDING IN NSW?
If you are planning a wedding during or even after the COVID -19 restrictions are lifted please take a moment to read the next few paragraphs, which may just provide some insight and advice on hosting an unforgettable day in spite of the COVID – 19 impacts on your wedding day across:
Invitations and pre wedding communications plus wedding stationery including ceremony programme, menus & guest place cards
Guest list sizes
Ceremony and Reception Floor/ Seating Plans
Guest Seating at the Reception
Florals and Decors
Linens and Napery
Catering
Entertainment and Music
Transport
Photography and Videography
Gifts and Wishing Wells
Guests Favours
1/Invitations & Pre-Wedding Communication – Most couples who have had to postpone and re announce a wedding date have taken a practical approach and have chosen the digital online option as it is more cost effective and is less time consuming than the traditional wedding suite mail out but there will be additional wedding stationery requirements post the COVID-19 implications so think laterally about what delivery method suits you and your day and then do it your way.
*Wedding Stationery – The traditional wedding stationery will never be totally replaced by the digital process however the digital /online does provide broader options if you so choose during challenges times.
Remember you can still have your personal wedding style and colour palette as part of your wedding stationery digital/online delivery suite too.
*Digital and Online activations are also a great way to introduce the style of the day through digital elements so get your creative on and include a teaser to ignite the excitement of the day.
No matter the selection of communication always include current updates on the COVID-19 restrictions in a conversational way and how your wedding day will support the health considerations for all your wedding guests within the standing public health orders so there no is surprise to the guests on arrival, on the day – don't forget to include the health monitoring requirements of temperature checks on the day too.
All wedding planners and venues should have an appropriate COVID-19 action plan in place to cover all these public health requirements so this is another practical reason to partner with a wedding planning service to remove all these required activations (and stress) from you and your partner on the day.
Your wedding planning service can assist you with how to word the public health requirements notice just the right way including all the key information relative to the day and if they are the "on the day coordination service" this will be diplomatically and seamlessly handled for you in a non confrontational and effective way observing the public health requirements with care and consideration for that of your guests also.
2/Guest Lists – Wedding gatherings (by public health order necessity) will be smaller than before COVID – 19. Managing the size of your guest list is going to be a key element of the success of your day and I would encourage all couples to be proactive and curate intimate gatherings so you may all actually relax and feel confident about attending the wedding day with no stress or fuss.
Don't forget within this digital age we can include many guests on the day who may not have been able to attend for many reasons anyway and this can include the ceremony and reception celebrations from wherever your venue spaces are to wherever in the world your external wedding guests may be on the day by broadcast quality live streaming (not zoomed in) which provides live and interactive opportunities from the wedding spaces to the remotely located extended wedding guest list.
Culling your guest list can be an overwhelmingly difficult task however it is a reality that we must address so speak with your wedding planning service as to how to achieve this – all events will now be more intimate by default and while not ideal it does provide opportunities to perhaps divert or redistribute the wedding day spend to include additional wedding day details further enhancing the experience as a whole.
Consider up scaling your reception soirée to a fine dinning experience across a 4 or 5 course experience with superior beverage options per course or add draping and a fabulous light or pyrotechnic display with performance stations elevating and connecting the whole entertainment purpose to that of a production within the food and beverage elements which may not have been possible in a previously dedicated but stretched wedding budget.
The reality is that with a more intimate wedding day celebration "details" can be factored in varied and differing ways creating a truly unique wedding day experience for all.
3/Ceremony and Reception Seating Plans – Weddings during the COVID -19 gathering restrictions will still be an emotional and special experience of course with a few tweaks to the floor plan and seating layouts to ensure the safety factor under the public health requirements.
Expect to see more standing activated ceremonies with only a handful of chairs or with permitted limits of up to 30 or so chairs and the rest of the guests forming an amphitheatre style gallery within approved special distancing which is by the way the current normal for most out door public space ceremony activations anyway.
By not having the traditional rows and rows of ceremony seats you can allow for a creative dynamic space providing more visual and unique photography and videography opportunities.
Civil ceremonies may also become somewhat shorter (maybe now we will see an average of 15 minutes versus the current average of 25 -30 minutes) providing additional time in the wedding daytime line for a post ceremony beverage and canapé pause while the wedding party photography is captured.
Ceremony programmes are another on the day detail to think about – forgo the programme and put that information on a digital platform or large signage with beautiful calligraphy …the possibilities are endless.
Sanitiser stations or personal sanitiser sachets will be required at all ceremony spaces for the health and consideration well being of the wedding party and guests.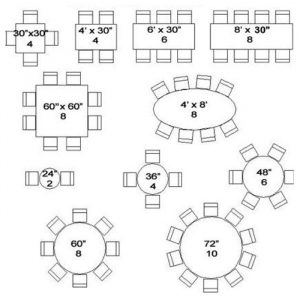 Guest Seating – Multiple Configuration options that can adhere to the NSW Public Health Orders and the 4 sq m per person rule will now be half the capacity of any traditional wedding day reception plan – COVID 19 specific seating and floor plans for ceremonies and receptions available on request @luxeunforgettableevents
4/Guest Seating At the Reception – When it comes to guest seating at wedding receptions (pre and post COVID -19 restrictions) expect to see smaller tables spaced with more distance or longer table options with more spacing also – think more restaurant style seating as opposed to large tables with lots of guests.
Table arrangements across guest seating can be based on families not friendships per se – imagine a mix of table sizes to suit families from 4 to 10 people if the venue capacity can accommodate these seating arrangements within the *4 square metre rule per person with the other guests comfortably accommodated also…yes it will take some creative insight as to the venue space/s and the guest list too but it is all doable. Within the venue capacity think half the guest list required that could be accommodated.
We have already developed several practical and workable seating plans across popular Sydney venues all with varying size and guest capacity as it relates to their existing floor space parameters.
Escort tables with seating /name cards should be replaced with seating charts or digital platforms as a compliment to the rest of the wedding signage of the day adding a new and creative element to the on the day styling …all pre COVID -19 bits and piece elements should be eliminated. The good news here is that with digital signage or specialised signage a whole new creative is now in play.
As with the ceremony spaces the reception spaces will require sanitiser stations and or personal sanitiser sachets readily available throughout the entry, main and access space conduits.
5/Florals and Decors – Smaller weddings mean couples can be even more creative with their decors.
Guest concierge signage will be even more important to address the passive guest concierge communication delivery which will be move away from the traditional menus and seating charts with more signage featuring hygiene practices in a creatively fun way of course.
In terms of flowers and floral elements flexibility will be key to the successful styling on the day.
Couples will need to rethink in terms of colour palettes, tones and textures when it comes to their vision because their favourite blooms may be more difficult to source – think local and what is in season.
6/Linens and napery plus the guest cutlery suite – This critical décor styling aspect will be need a whole new concept and access methods too. Again all doable in a wedding day style plus way but it will just take an outside of the traditional viewpoint.
Lighting will play a bigger role than ever before. Couples who are hosting smaller guest numbers need to think ambience more than ever before – its not about filling a room its about the amenity of the space so consider adding spotlights, possibly spreading out chandeliers with draping or floral installations and increasing the number of visual accents on the walls in and across connecting spaces.
7/Catering – Food and beverages will now move to centre stage.
From the cocktail hour to the reception this is now the focus. What also will change is the way food and beverages are presented and served on the day.
The requirement under public health orders is to ensure as few hands as possible are involved in the setup, serving and or plating while still providing guests with an unforgettable culinary experience and yes it is doable while maintaining the integrity of your wedding day style albeit with a twist.
During the champagne and canapé or cocktail services an increase in the number of bars and bartenders will be required to alleviate the number of guests standing in lines and passed out canapés on trays should be replaced in favour of beautifully sealed mini boxes of appetisers that are handed out to guests by the catering or guest concierge personnel on the day.
Bar areas will more likely require some form of server and guest barrier so I can see some really creative and custom bar activations coming into the wedding day style and delivery mix.
For the reception the focus will be on serving each guest individually i.e.; a plated service to avoid as much touching of communal surfaces as is reasonably possible.
Buffets, grazing tables and shared platers will not be viable options in the short term but small food stations with a chef and servers may become options as we see more restrictions rolled back.
The same goes for dessert courses – Wedding Cakes will be prepared and served to each guest by the catering staff rather than guests taking a plate from a communal table. Self serve dessert tables will be replaced with individually wrapped and packaged items or dessert sampler plates will be prepared by the catering service and served one by one to seated guests.
The traditional wedding cake, for the cake cutting will be no longer shared by all the wedding guests and a separate cake will be required for the traditional cutting element as opposed to the cake that is plated and served to the wedding guests.
8/Entertainment and Music – Instead of the previously mandatory packed dance floors couples will need to be moving toward a more refined and fine dinning atmosphere focusing on toasts and speeches, special dances for two and as already mentioned unique entertainment experiences.
This will mean music is more important than ever with a set list of music across the introductions, to the special dances and to ensure all of your favourite songs and those of your guests are part of the styling of the day while you enjoy dinner and segue to the all reception activations.
This dynamic change provides for creative opportunities to experience music throughout the reception in differing ways than previously done………think themed music areas throughout the venue that your DJ or MC controls or we package elements of the traditional band i.e.: the saxophonist in one space, a drummer outside for the wedding party entry and strings inside…love the possibilities and just image the optics.
Larger dance floors for smaller guest numbers and slow dancing sets (where possible) will also make social distancing requirements easier and you can add some fun entertainment options too like the individual "karaoke" set.
9/Transport – Wedding transport (no matter the size of the wedding party) will require larger capacity and very possibly add to the number of cars required on the day…think outside of the box and maybe go for the kombi van or mini bus experience or a mix of all and there is always the stretch limo options also plus many more.
Whatever way is chosen it will need more consideration than before the COVID -19 impacts.
10/Photography and Videography – will play an even larger role in weddings then ever before.
As already discussed loved ones and friends who are not able to attend will be able to experience the joy and celebrations along with the couple and actual guests through the interactive live stream option no matter where your loved ones or friends may be on the day. Photos, and of course the wedding day video will be a treasured addition too…don't forget that a wedding album is a décor element for pride of place on the main coffee table and makes for the loveliest of post wedding day family gifts too.
In terms of photography longer lenses while shooting outdoors make capture from a distance totally possible.
Conversations however need to take place with parameters agreed about handling bouquets, veil placement, adjusting attire and all the usual on the day photography aspects too…………it is no longer a traditional wedding day shoot and your wedding planner will ensure these and all supplier and vendor activations on the day are COVID – 19 adherent and guest friendly too.
11/Gifts and Wishing Wells – It is time to rethink the gift register and get creative as the traditional and most commonly accepted "wishing well" is not now advised…. there are many options that will still be a fit for your vision so talk to your wedding planning service and do not stress about this element at all as it relates to your day.
12/Guests Favours – as much as I hesitate to say it hand sanitiser is the hot commodity these days and it's going to be a popular wedding guest favour for some time to come…. again get creative with the packaging and the formula as some are so drying and lets not forget the aroma too.
Welcome or guest favour bags will also need to be rethought – maybe consider something that is mailed or digitally delivered to each guest in advance of the wedding day to get them thinking about your day.
Guest concierge and hygiene care stations complete with hand sanitiser and individually wrapped antiseptic wipe sachets will be more commonplace particularly at the entrance to the ceremony and reception spaces, near guest conveniences and door conduit spaces but do not despair these activation stations can be wedding day stylish too – adding passive guest concierge signage and flora will be a welcome addition also.
The big question currently for weddings is around facemasks. Should couples provide masks for guests – having a cache of face masks on the day as part of the contingency plan is a logistic that is not only viable but it is proactive and no they don't have to be customised unless of course you choose to incorporate "the mask" into the wedding style of the day… then that's a whole other wedding day story element to be discussed on another blog or simply call me and lets discuss.
CLOSING WORDS
This blog never attempted to capture and define all of the wedding landscape issues currently or moving forward but merely seeks to raise discussion points, which will be invaluable as we do move to reschedule and engage in new partnerships that will still be impacted by this challenging and unprecedented COVID -19 pandemic of 2020.
I am only ever a telephone call or email away so if there is any question at all please let me know.
Thinking of you all,
K x
@luxeunforgettableevents