'Love Won ' in NSW with micro wedding ceremonies (only) permitted under the NSW Public Health Orders from 12.01 am on Friday September 3, 2021 but these remain capped activations for now and no "at home" weddings are currently permitted.
However with the most recent announcement of the "Roadmap to Recovery" by the Premier of NSW it is confirmed that "Weddings and Life Celebrations" will have an easing of restrictions from October 11, 2021 "if" the state's total vaccination rate reaches 70% and with further significant roll-backs once the double dose reaches 80% of the NSW population ……meaning we will soon see the "Wedding Day" back in full swing with only a few limitations moving forward.
Wedding Planning in Sydney is on the way back………..but remains as a work in progress.
Wedding restriction roll backs are yet to be signed off on by the NSW Minister for Health however from October 11, 2021 (if the vaccination status reaches 70% of the population) we will see weddings and life celebration restrictions eased and at the 80% mark the easing will include receptions with dancing (uncapped) but still subject to the 1 person per 4 square metre capacity rule until otherwise advised with December 1, 2021 anticipated to be the date that we see the general population returning (uncapped) in all event and hospitality venues (vaccinated or not) – this information is yet to be confirmed by signed Public Health Orders.
This announcement, while a step into the right direction remains a cautionary position for us all from both a creative and logistic perspective however for all the newly engaged couples wishing to marry in 2022 wedding planning should swing into action now as venue capacity in a converging market may very well mean limitations on choice across dates in the preferred ceremony and reception venue/s for some time to come.
The "possible" inclusion of uncapped wedding guests "if" the vaccination targets are met remains tentative at best so the proactive advice is …. wait until the actual new Public Health Orders are signed by the Minister for Health before you reschedule …..best bet is to consult with a wedding planner who is up to date and across the changing PHO's.
Even if the Public Health Orders (from mid October) are eased, "restrictions" will remain an active influence on what can and cannot be activated until the actual reset under PHO's.
The suggested "opportunities or freedoms" for "Weddings in NSW" (in the short term anyway) will still need the facilitator to observe the required COVID – Safe Registered Operational Plan (with Service NSW) and the QR check in will remain for contact tracing until otherwise discarded – to be confirmed.
Until December 2021 (date to actually be confirmed) all members of the wedding party and guests will be required to have their (double dose) digital vaccination certificate to verify their status so it is time to consider how you will address this issue with your wedding party, family and friends.
Keep the vaccination enquiry simple and to the point…..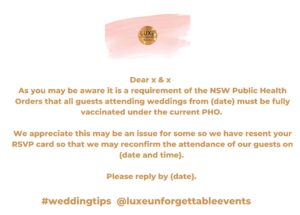 It is important that this sensitive but imperative issue be factored into your wedding planning and sorted well before your day to avoid unnecessary stress on the day.
Let's not forget until we have signed confirmed dates and actual "permissions" for any restriction lifting we must work within the current Public Health Orders.
Further, while there will be future wedding restriction roll-backs the continuing restrictions as to outdoor and indoor activations will apply and at the 70% per population protocol the indoor 1 person per 4 sq metre rule will no doubt be applied with an outdoor wedding being subject to capacity under the 1 person per 2 sq metre rule.
Capacity is based on the square metre of the event space not the person cap per se.
Wedding guests from interstate and (eventually international arrivals) will continue to be subject to the standing Public Health Orders of the day – from state to state as "uniformity" is still to be confirmed.
At home weddings (when permitted) will be capped until otherwise discarded and the cap at 70% and 80% (respectively) has yet to be determined as are the actual permissions for all at home activations.
Dancing will be back but will have restrictions (as to the person per square metre rule) as will the reception operation which will no doubt be based on the social distancing rule also however the really good news is "live musicians" will see a return at the wedding ceremony space and the reception also.
Mask requirements will be determined by the NSW Health Dept advice but will include event and hospitality personnel still required to "mask" at least indoors – to be confirmed.
Wedding facilitators, suppliers, vendors and venues will need to observe social distancing rules plus COVID – Safe Operational criteria of the day.
We cannot wait to confirm the 'Weddings in NSW' roll back realities as soon as is reasonably possible so the rescheduling of so many postponed weddings and new life celebrations can be activated with surety.
For a "plan" to be viable surety around 'Public Health Order' permissions is critical as this will inform the exact capacity and inclusions for wedding and life celebration days in NSW.
Current permissions as of September 3, 2021 are:

✅ a COVID – Safe registered plan must lodged at Service NSW by the facilitator of the wedding
✅ check in to the ceremony space is by the COVID Business QR app at Service NSW and is mandatory under NSW contact tracing PHO requirement for all party to the activation
✅ wedding suppliers registered at Service NSW (under the essential service provision) who are party to the ceremony setup, delivery and pack down must be clear of the ceremony space or venue prior to wedding party & wedding guest arrivals
❌ no live musicians are currently permitted in the ceremony space so the ceremony music will have to be recorded
✅ the wedding party, wedding witnesses & wedding guests are currently capped at 11 persons in the outdoor ceremony venue or space and is subject to the 1 person per 2 sq metre rule including the marriage celebrant or officiant and photographer
❌ the current public health order excludes the videographer or live streaming service providers unless they replace the photographer
✅ wedding guest numbers are currently capped at 5 persons
✅ mandatory masks remain for all wedding suppliers, the wedding party & wedding guests
✅ champagne and wedding cake may be included in the ceremony space but is consumption by seated guest or wedding party members only
✅ masks can be removed while eating and drinking but the social distancing provisions apply and again consumption is only while seated
❌ no consumption of food or beverages while standing is permitted under current PHO's
✅ the wedding photographer, wedding videography or live streaming service will need to observe all COVID – Safe protocols & check in via the QR app at Service NSW which is the responsibility of the facilitator of the ceremony ie: the wedding planner, wedding celebrant or the venue coordinator who will double as the COVID – Safe Marshall
✅ check in at 'Service NSW' for accurate updates.
✅ Contact us at LUXE – Unforgettable Events for information on our new and inclusive Pivoting the Wedding Day – Intimate Weddings Package – the Live Streamed Wedding Experience specifically designed for couples who wish to marry in style and in a dream ceremony venue within the permissions relevant to the Public Health Orders of the day ….. the 'Intimate Weddings' package is flexible to ensure additional elements may be added by a *bespoke build assoon as the PHO's permit.
Learn more about our 'Intimate Weddings' Package – the Adaptable Experience at our COVID – Safe Weddings page where we introduce the team of talented wedding professionals who will be your 'Intimate Weddings Experience' team and deliver your day in a chic and sophisticated way.
➡️ Please note: weddings from 12.01 am on September 3, 2021 can only proceed if the legally required paperwork under the Marriage Act (Cth) has been completed by the couple with their Celebrant or Officiate …. All new 'to be wed' couples who intend to marry must have or lodge their notice of intended marriage 'NOIM' with their Celebrant or Officiate at least one month prior to the wedding date.
As always we are only a phone call away to assist with the creative, logistics and delivery of your day – your way – without fuss!
Lets get planning.
Cheers to the return of the "wedding day' without restrictions……..well at the most…. only a few!
[email protected]