The difference between a Wedding Planner and a Wedding Stylist is often easily confused, so it's important to be clear on exactly what each role entails when you're trying to decide on which services to engage for your big day. What is the difference between them and which one is right for you and your budget?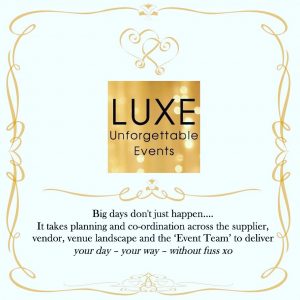 A Wedding Planner can also double as a Wedding Stylist if they have expertise in both event development and creative styling. But specifically, a Wedding Planner is a professional who partners with you to ensure all the practical details, logistics and contractual "planning" processes are seamlessly developed and delivered from start to finish, whereas a Wedding Stylist works to assist you to determine what your unforgettable day will look like – only. For example, they will help make your wedding look a specific way but they won't be at the ceremony to make sure your wedding party adheres to the timing that you have rehearsed, or at the reception to ensure the pre-reception drinks and canapés are served with the appropriate flow and pace, and all those other finicky details you don't even realise you need until the day arrives!
Our packages at LUXE can include wedding styling if you so choose. The benefits of including a "wedding styling" element in your package of choice is that it helps to ensure that the unique theme and style for your unforgettable day is the focus of all vendor and supplier contracts from the outset – the earlier your style and "look" concept is factored into the budget and planning, the better.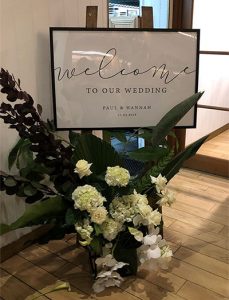 Florals and Floral Styling by The Make Haus team
The role of a Wedding Planner
Your Wedding Planner is the organiser and coordinator of all aspects of your big day. Their focus is on practicalities: venues, vendors, contracts and run sheets.
A full-service Wedding Planner's role is to be your professional guide and mentor through every aspect of your planning and delivery process. They are responsible for key facets of your event including, but not limited to:
Overseeing the logistics of your wedding planning and delivery
Assisting with selection of suppliers, vendors and venues that have a 'mutual fit' with your budget and style
Contractual negotiations and agreements
Protocol and or etiquette advice
Practical 'day of' event timeline and run sheets for all suppliers and venues party to the delivery of the day
Wet Weather Plan (WWP) – a must have (JIC)
Guest relations
Supplier, Vendor and Venue final payment schedules
Problem solving on the day
Planning, Styling and Coordination by LUXE – Unforgettable Events
The role of a Wedding Stylist
Your Wedding Stylist, or designer, is the creative visionary that helps you decide how your wedding is going to look and feel. Think of them as the interior decorator for your wedding. They should work with your wedding planner to ensure a holistic approach to your day.  They are responsible for the overall aesthetic for your event including:
Developing a unique theme for your wedding and,
Working with florists, lighting, decorators, furniture suppliers etc. – all of which can be factored in your wedding planning package of choice also.
It is a good idea to check with your Wedding Planner to confirm exactly what is in your package to ensure that the styling component has been incorporated into their full-service planning and or coordination package to avoid confusion and disappointment.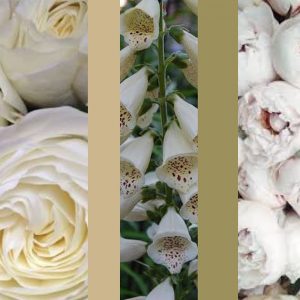 Your Wedding Planner is the key player who partners with you to develop and deliver your unforgettable day – your way – without fuss.
By the time your unforgettable day arrives, your Wedding Planner will know you, your partner your family and friends, and ultimately your wedding day vision thoroughly. A full-service Wedding Planner should provide you with a service that feels like it is undeniably the most valuable investment you have made.
If you have any questions just call us at LUXE… Remember – it's your day… and partnering with the right Wedding Planner and event specialist ensures it will be unforgettable for all the right reasons.
The LUXE Team.
xo