COVID Safe Wedding Day Delivery Action Plans are essential – for the safety and welfare of all party to a wedding day.
LUXE – Unforgettable Events is a registered COVID-19 Safe business and our operational policy for all on the day delivery activations includes key operational processes.
As part of our COVID-19 Safe social distancing operational policy all on the day delivery teams will require temperature checks on arrival at the wedding venues and we ask all on site suppliers to wear a face mask and disposable gloves in the best interest of the health and safety of our clients, their guests and all 'on the day operational teams' as per a NSW Public Health registered COVID-19 Safe wedding industry business.
All wedding day activations are currently subject to the standing public health orders – any postponements required under Public Health Orders will be rescheduled by availability of all parties to the delivery of the day and by express agreement moving forward.
Planning a wedding and wedding day logistics in 2020 and 2021 is far more complicated and exacting then it used to be before the COVID-19 pandemic and the subsequent COVID Safe requirements under the fluctuating public health orders (which are not uniform from state to state) requires careful consideration from the start of the planning process.
Delivering a COVID safe wedding requires awareness, adaptability and experience particularly on key considerations ie: the floorplans to ensure the 1.5m per person per 4sqm per venue public health rule is adhered to across the ceremony space, the reception and all public access points which means the size and capacity of the wedding venue will inform exactly how many guests you may host on your wedding day but it is capped at the moment at 150 guests regardless of the size of the venue and is also capped at 20 for all at home wedding days regardless of the size of the home spaces.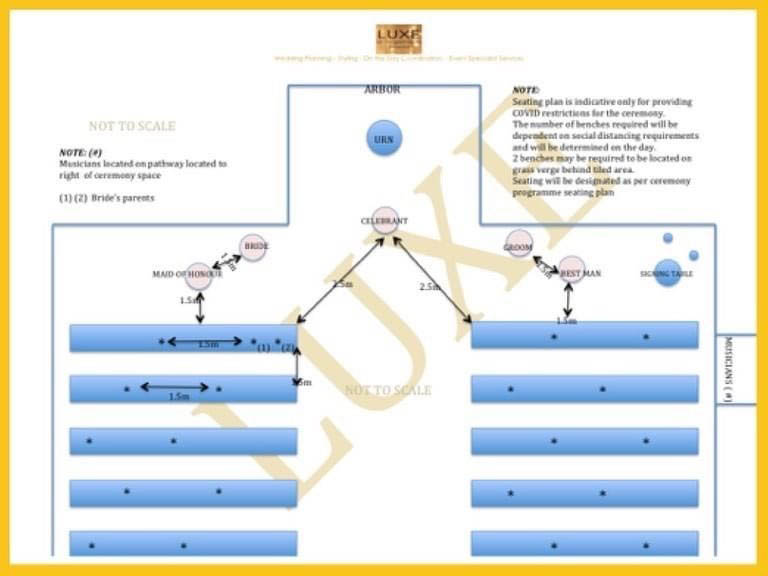 View Vintage Country Romance Wedding
All wedding day deliveries must now include a COVID Marshall and all guests are required to observe all onsite COVID Marshall directions for the safety of all on the day under public health orders.
The wedding guest seating plan is critical to the successful on the day delivery across all wedding day activations which can still be creative as well as functional but now under public health orders requires a special approach in planning to ensure appropriate and correct capacity which is all totally doable if you choose to partner with the right wedding planner when your wedding planning begins.
View Vintage Country Romance Wedding
At the very beginning of your wedding planning time it is advisable to consult with an experienced wedding planner to avoid unnecessary COVID wedding planning stress.
For your complimentary COVID wedding planning consultation see link here or simply telephone today and let's get your COVID wedding started the right way ensuring you will be wedding day ready within the COVID wedding parameters without COVID wedding stress – your day can be your way without having to forgo many of the traditional wedding day elements and the beauty of your wedding day vision if you so choose.
Your COVID Safe wedding day @luxeunforgettableevents is only a telephone call away.
Cheers,
kerrie @luxeunforgettableevents